Ah. YES. OSCAR GOWN REVIEW TIME.
Let's just dive right in. We don't need to get fancy with words here.
(oh & by the way, these are in no particular order. I snagged all these from style.com)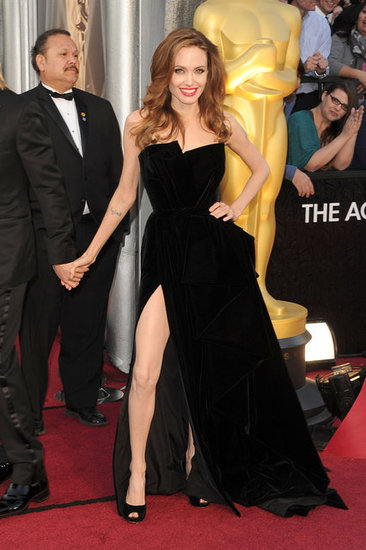 Angelina Jolie in Versace Atelier
First off, I like Angelina Jolie. A lot of people have a lot of beef with this chick, and for all sorts of reasons too. I am just going to go ahead and put it out there-I think this woman always looks like sex. She just always has this confidence about her that is very captivating in nearly every situation I've seen her in. She my have done some crazy shit in the past, but haven't we all? So back to it! I love the shape on this dress and how the shape balances itself out in two of the most vital places, or well, focuses within a dress. Of course, black is always a red carpet favourite, as long as there is some sort of shift or funk to it. Plus, I can always, always, always dig a huge slit in a dress. It automatically makes a long gown become more fun and dangerous. This does exactly that. Oh, how Angelina of her.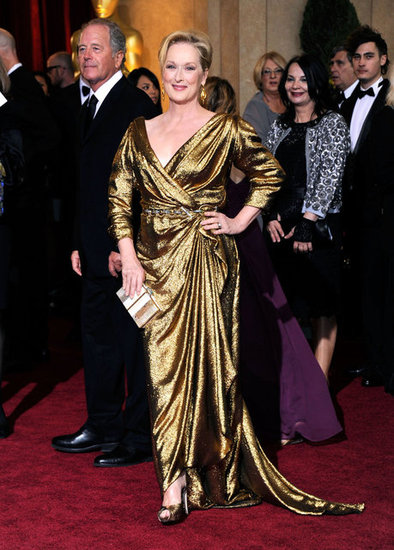 Meryl Streep in Lanvin
Aw. Yeah. I like it. I think she is the only one this would have looked good on, especially when she walked away a golden lady with a little golden Oscar man to match. I like a bold gold; this was good for her and it works well with her colouring. The clutch is Lanvin along with the chain belt. Lanvin! Lanvin! Lanvin!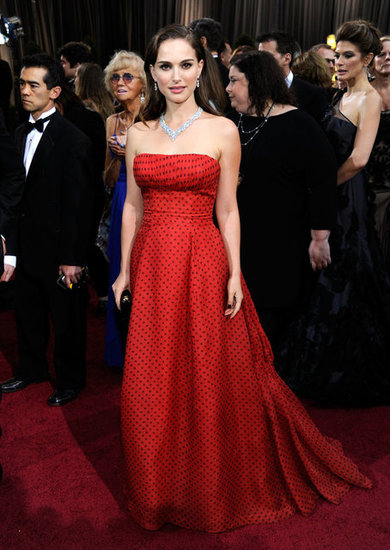 Natalie Portman in Christian Dior Haute Couture (Vintage 1954)
I love this. This is bringing back the old Portman that I loved and could rely on her to wear soimethin' funky. Remember her old pal, Zac Posen who put her in all sorts of rad ensembles?? This is sort of like that but so much better because it's vintage Christian Dior. I just absolutely love it. The cut, the colour, the pattern, how she looks in it, the train, blaaahh blahh. But awesome-sauce right??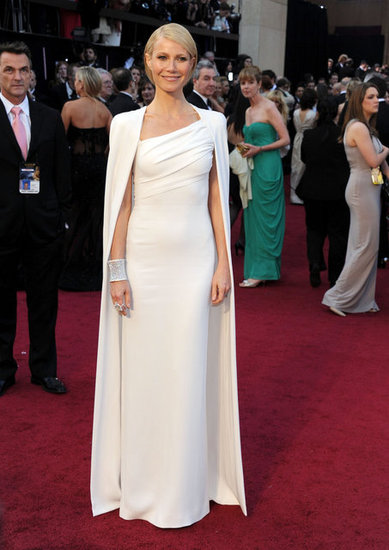 Gwyneth Paltrow in Tom Ford (<---!!!!!!!!!!!!!)
YEAH YA DID, GIRL!
Any woman in Tom Ford categorizes under the category of 'Sex + Class'. Congratulations, G! You knocked yourself right into that category! This gown and cape are perfection and she looks really good in it. Really classic look. Gwyneth Paltrow makes a few fashion faux paus here and there, but for the most part, this broad has pulled out some phenomenal red carpet stunners in the past and generally always looks pretty damn good. This dress! Gah!
Jennifer Lopez in [WHAT THE HELL WERE YOU THINKING] I mean Zuhair Murad.
I hate this dress on her. Not necessarily the dress. I don't know.
Can we get a picture of someone else in this to compare?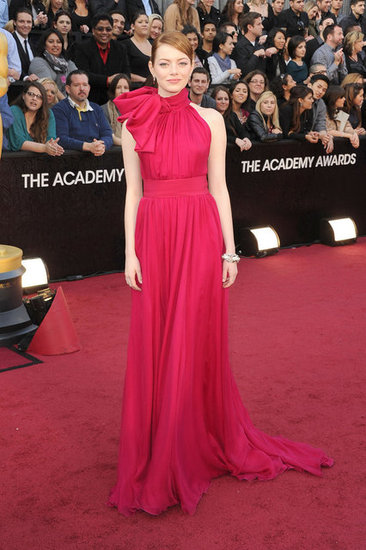 Emma Stone in Giambattista Valli
I love this. Yeah, yeah, yeah, so it's reminiscent of Nicole Kidman's 2007 Oscar dress. First of all, who the hell cares? THAT WAS FIVE YEARS AGO. I think it's kind of rad to see this kind of look work well on someone else, in a different style, some time later. I really like this dress and I like this on her as well. The bow is something elegant that makes it funky at the same time. Plus, I think this girl is pretty rad. So I'm going to give the whole situation an A. Easy A.
(OH!!!)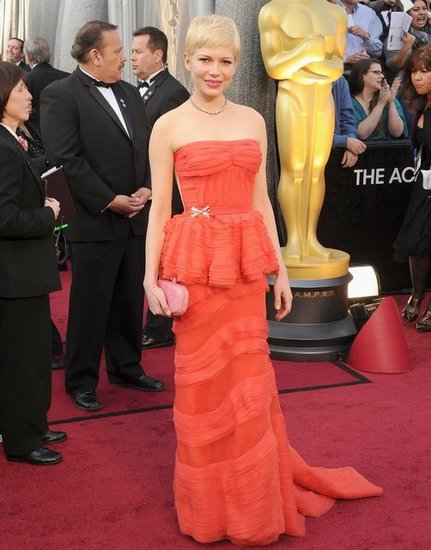 Michelle Williams in Louis Vuitton
I am so in-between on this gown. I like it, but then...I'm not sure I like it on her. I don't know. Maybe more hair is required? Perhaps I would be more into it if she had a big necklace on that made something stand out on top. For real girl, you have no hair. You need big jewelry SOMEWHERE to contrast that out with this kind of dress on. But the dress...yeah.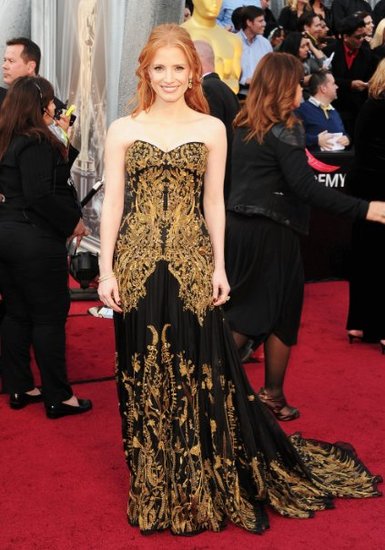 Jessica Chastain in custom Alexander McQueen
I can tell you right now, I have no idea who this woman is, but I LOVE it. I love any ornate kind of work like this on a gown and of course you can leave it to Sarah Burton to deliver.The cut is just perfect for this dress and I really like how it accentuates her figure through the intricate design. Way to go.
Milla Jojovich is Elie Saab
LOVE IT. On par with how much I loved Cate Blanchett's Givenchy Couture dress
last year
, but now that I look at pictures of that, I think it may have been an overstatement...but, this gown is...absolutely superb.
Shailene Woodley in Valentino
Here's the thing, this dress is totally rad. I love it. I know why she picked it. But as the broads on E! said (but can I please say how much I love Kelly Osbourne as a commentator? The best one) she's 22, she needs to wear something that shows off her figure. Like, save this one for next year after you've already stepped onto the scene in something a little more vamped up. So like...cool, you have good taste, now let's learn how to work it next time, girl. Oh, and I have no idea who this girl is either...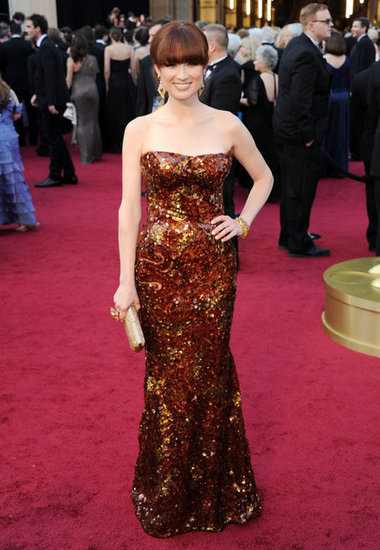 Ellie Kemper in Armani Prive
I really like this dress. It works nicely with her hair colour and normally I'm not a fan of this girl, but I can dig her choice in this dress. The earrings are great, but no necklace?
Maria Menounos in Maria Lucia Hohan
I am a big fan of this dress; the colour, the cut, and the little ruffled touch on the ends of the train. Ettheerrealll! I also think the earrings where a good pairing, but something with a shade of green in them may have been a rad touch. Perhaps if I saw them more close up.
These were just a few that really stood out to me during the course of the night and when they were dissecting them to pieces on the red carpet show. What did you guys think? What were some of your favourites?