Oscar Sunday, how I love you so...
I absolutely cannot help but indulge myself in what the Oscars have to bring in terms of fashion and all-out glamour. It's the one time of year where I bring myself to watch what E! commentators have to say about dozens of stars strolling down the red carpet in some of the most gorgeous gowns, made by the most beloved designers. Most of them were custom, but Helen Hunt was more than proud to claim her dress was from H&M. This year, I thought the women looked absolutely stunning. Here were my favourites of the night;
Jessica Chastain
in custom Giorgio Armani with Harry Winston Jewels
Okay, let's just put it out there, she looks absolutely stunning here, alluring, even.
She looks so classic Hollywood here; that red hair, the bodice of that dress, the red lips, the minimal, yet prized jewels that hang from her ears and wrists...it's just...perfect. The way the beading falls in different patterns on this dress also help accentuate the curves she does have and the color is perfect for her shade. She could have looked amazing in any darker gem tone, but this was a solid pick for her. Way to knock it out of the park, Chastain!
Charlize Theron
in Dior Haute Couture paired with Harry Winston Jewels
Let's face it- the girl looks good. This is a rough hairstyle to rock and she does it rather well.
Another thing about this whole look, is that you can just tell that she knows she looks good, and sometimes,
that makes the biggest difference. White is also another tough one to pull off well on the red carpet.
This was a really good pick because it's clean-cut and flawless and gives her a really nice shape- it's such a definitive dress, as is her whole look. It all makes a statement without anything jumping out at you. Nothing is "loud", it's just all very clear. The train adds something nice to the dress, and makes it a stellar choice for the Oscars this year.
Kerry Washington
wearing Miu Miu with Fred Leighton and Chopard Jewels, Prada clutch
I'll be honest, Kerry Washington is not someone I keep up with. However, this dress was really gorgeous. The beading on the top is really awesome and really ornate. I dig how the dress gives off that soft shine and makes it blend easier into the beading. The color was also quite dashing and she looked so nice in it. It would have been fly as ever if she would have found a beaded clutch to have something beaded at her side.
Jane Fonda
wearing Atelier Versace, Chopard jewelry, Jimmy Choo clutch and shoes
YES, YES, AND YES! Hot damn, I loved this look. This color was so bold. They were saying something marvelous on the pre-show about how she picked the color and they were able to find something in Milan, flew it in, and pieced together this bright thing of beauty! She actually looks a lot like my mother, but my mother would never go prancing around in a color like this. Luckily, Jane Fonda did, and we had this fantastic outcome. This was so striking and I'm so glad she made this choice over any other color, after all, I'm sure she's worn them all.
Halle Berry
draped in Versace.
HALLE HOT DAMN BERRY! I LOVED THIS DRESS TO BITS.
I actually missed this on the Red Carpet (I was super swamped blow-drying my hair) and caught the first glimpse as she came out to present. This dress was really captivating and shaped in all the right ways.
I'm glad she wore this, because she looked top-knotch, but how can one not in Versace?
Amy Adams
rockin' out Oscar de la Renta
YOU GET EM, GIRL! Oscar is my main man when it comes to gown adoration and when you pair him with the Oscars, you get a fantastic outcome. This dress is awesome. I really like how the pattern changes up and there's a clear break from torso to waist. The bottom of this is absolutely awesome, like ice, or a swan, or some other rad texture I can't quite put my finger on. She actually wears it really, really well. It's a powerful dress, no doubt, and she gives off a really powerful stance here that just kind of owns it. This was a far-out pick for her, but a great one.
Zoe Saldana
in Alexis Mabille Couture with Neil Lane jewels
This dress was so eye-catching and fascinating because you see that belt and you're kind of thrown off for a hot second, but then you realize IT WORKS SO WELL! The bottom of the dress really balances out top, and the way the colors fade and go around the dress at that angle makes it look really sharp. She looks absolutely amazing and this was a real win for her.
Reese Witherspoon
head to toe in Louis Vuitton
How adorable is she? She looks stunning, and like Jessica Chastain, was another perfect embodiment of classic Hollywood last night. Reese Witherspoon always looks amazing, and this dress in this color was a marvelous choice for her. It made it stand out and pop, but the design is really subtle, as is her jewelry. It's a great balance. Her hair color also goes so well with this shade of blue. She looks statuesque here, this was a really great pick for her.
Nicole Kidman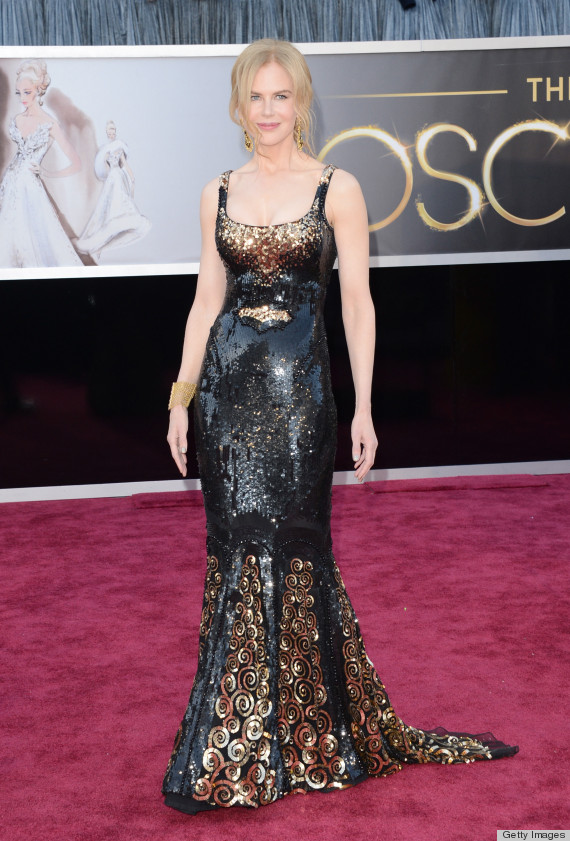 wearing L'Wren Scott paired with Fred Leighton jewels
I can dig this dress a whole lot. It's black and gold, which is a huge effing win-win for me, and it's got that edge that you wouldn't necessarily expect Nicole Kidman to be sporting around. It's great for her figure and it somehow balances nicely with her coloring. I'm not a huge fan of the cuff, but whatever, the rest of her is absolutely stunning. I'm so glad there was some awesome flair on the red carpet this year.
Justin Theroux and Jennifer Aniston
he's in Salvatore Ferragamo
she's in Valentino Haute Couture with Fred Leighton jewels + Ferragamo clutch
Yeah, he looks great, that's nice.
LET'S TALK ABOUT HOW AWESOME JENNIFER ANISTON LOOKS!
Seriously, she just looks amazing. I love that hair color on her and the color of the dress really gives her some radiance. She just looks happy and healthy, and of course, very stunning in Valentino.
Sandra Bullock
wearing Elie Saab Haute Couture with Harry Winston jewelry + Swarovski clutch
This dress is great; detailed, carries a bit of flair, and gives off a 20's vibe that's amped up with elegance. She's been making some great choices the past few years...
Samantha Barks
wearing Valentino with Forevermark jewels.
Uh, yeah, so I'm not so sure exactly who this girl is, but this dress really stands out to me. I really love this picture and I just am enamored by the simplicity of this dress, yet it gives off so much strength, a lot like how Charlize Theron's dress gave me that same vibe. She looks classic.Valentino aced it last night.
George Clooney and Stacy Keibler
he's sporting Giorgio Armani and she's rockin' Naeem Khan with Lorraine Schwartz jewels
THIS DRESS IS AWESOME TO THE CORE. That's all there is to say.
Alicia Vikander
wearing Elie Saab Couture
This color is beautiful and the detail is exquisite. I really like this shade on her and the yellow belt really makes it more definitive and gives it that vintage vibe that always comes in handy. She would have looked really nice in many shades though, especially a gem color. I would love to wear this to like..a Florence concert though. Just saying.
It's always almost impossible to narrow it down to a couple handfuls of favorites. Especially last night, where so many of the women made so many great choices. Hopefully you dug some of the same dresses, get at me with your opinions!