la la la. Jeans!
Various shades of denim can be found on the racks of my Ikea closet unit; about twelve pairs of jeans total, maybe fourteen. I have come to hate jeans. I have a boyfriend that hasn't worn jeans in about 10+ years. I am rather fond of the notion and I don't blame him one bit. Sometimes when I'm wearing jeans, I look down and I think "What the hell was I thinking?" But other times I think they are the perfect essential, the classic, clean cut, all-american element to your wardrobe. But those exact things lead towards my lack of interest in wearing them. I have a unfortunate love/hate relationship with jeans. I wish I could just pick a side but I feel that both sides have so much to offer. I feel that my interaction with jeans is far less in the winter time, but that they are more integrated into my fall wardrobe. I just get cold looking at them. They seem to offer little to no heat benefit unless you're loading up on the leggings under them. And then you get...
Jeans make me think of Kate Moss and the '93 Calvin Klein ad or some lame frontiers commercial promoting us to "go fourth" by wearing the same brand of jeans...? This has to be one of my favourite ads of all time;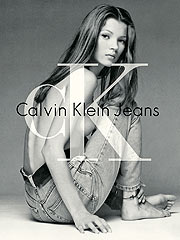 Which brings me to that old 80/90's denim craze. Once in awhile I see a jean vest or sleeveless jean button-up shirt in the mix at Good Will and I am immediately brought back to the days where all-denim outfits were part of the rage.
balanciaga 2010 fall/winter
tights = one of my favourite fall essentials.
perfect. I want this outfit.
Alexander McQueen
Ah. The denim.
Cookies I did at work. Woohoo! Bringing the spook!
Ann Demeulemeester fall 2010 RTW
As for now, I will do my best trying to avoid jeans and sporting tights and leggings as often as possible. It looks like I am on a denim hiatus.